Care to be a NONA groupie? (or just want some FREE sauce samples?) See where we'll be with our demo & event calendar here!
October 12 2017: On Thursday October 12th you can see our Sauce Boss Kailey face the fire on Dragons' Den! It airs on CBC at 8:00pm. Tune in online
www.cbc.ca/dragonsden or on your TV to watch this saucy showdown.
October 11 2017: NONA makes it to the West Coast! Now available via Vegan Supply both in store and online!

August 1 2016: The Canadian Business Magazine interviewed NONA Vegan owner Kailey Gilchrist! Check it out online and in the August edition of Canadian Business Magazine in stores!

June 22 2016: Team NONA is in the US! We are in Chicago for the Vegan Food and Drink Festival! Come check it out this weekend if you're in Chicago!


June 1 2016: Big thanks to Futurpreneur for awarding our Sauce Boss Kailey Gilchrist as Entrepreneur of the Year! Read the full press release here!


May 16 2016: We made a recipe video with our friend J! Check out NONA's Kitchen and follow along on YouTube for more!

May 13 2016: New retailer alert! NONA is now stocked in Goodness Me locations across Ontario!


April 18th 2016: The Financial Post asked our Sauce Boss Kailey about springtime in business! See the article here! 
April 11 2016: Thanks to She Does the City and Gluten Free Garage for this interview! See you at GFG on May 1st!
March 21 2016: We're thrilled to be included in this StartUp Here Toronto article! 
February 14 2016: Celebrate all kinds of #love with our #loveyournona valentines day special!


January 20 2016: Whole Foods Market and the majority of our retailers now stock our newest sauce: Carbonara-Style! A delicious smokey peppery sauce co-created with our friends Vegan Magic!


January 13 2016: Check out these YouTube Videos from Freelee the Banana Girl and Alexandra's Girl Talk feat. NONA Alfredo!


December 4th: NONA is now available in Peterborough at Jo Anne's Place! We had a lovely demo there today!
November 14th: We had a blast at VegFest London and we're really excited to be sold in London now at Globally Local!
On November 12th we'll be doing an Italian Cooking Class with Marni Wasserman! We're excited! Sign up here!
October 20th 2015: We are now a part of the Tempeh Trails Vegan Club! 
October 1st 2015: A new Mac & Cheese spot has opened in Toronto – Bobbie Sue's Mac + Cheese – they feature NONA Vegan Cheesy-Style + Carbonara-Style sauces on their Vegan Mac dish!
September 23rd 2015: We had a great weekend at CHFA East! We met many new retailers and hope to be expanding to new regions soon! We were featured in Canadian Grocer's list of top innovations at the show – check out the article here!
September 14th:
– Thanks BlogTO for including us in your list of top eats from Veg Food Fest! See the photo gallery here
– Check out this great podcast on the Veg Food Fest from Guinea Pigging Green!
– We are thrilled to be School of Raw's top vendor for Veg Food Fest! 
September 11-13 2015: We had a great time at the Toronto Veg Food Fest! Check out our photo album here!

August 10th 2015: We are now carried online through V Word Market! They offer local delivery within Toronto and also ship nation-wide! Check out the site to browse tons of other amazing vegan products!
July 1st 2015: Have you heard about the Toronto Vegan Food & Drink Festival? It is happening on August 8th from 11am-7pm and NONA will be serving up our Award Winning Mac n Cheese – along with other awesome creations with our friends from Vegan Magic! Read all about it here: Vendor Spotlight: NONA & Vegan Magic


June 15th 2015: Remember that Mac n Cheese Festival last weekend in liberty village? Well NONA just happened to take home the "Best of Fest" title! Thanks to the judges from Flow 93.5 and Metro, the only vegan & gluten-free entry beat out the competition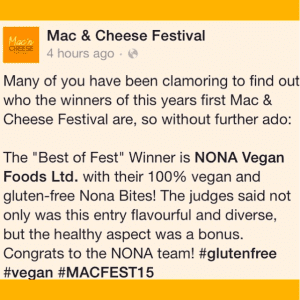 May 21st 2015: We're participating in the Vegan Popup in Toronto! June 14th (which also happens to be NONA's 2nd birthday!) 
May 7th 2015: A new sauce is coming. It is daaaarnnnnnnnn good.

April 29th 2015: Thanks to George Brown College FIRSt (Food Innovation & Research Studio) for helping me naturally increase the shelf life of our products without adding any preservatives! They made a video of our success story!
April 23rd 2015: We will officially be a contestant in the Toronto Mac & Cheese Festival June 5th-7th macandcheesefestival.ca
 April 17th 2015: NONA will be participating in the Ottawa VegFest June 6th & 7th! We mayyyy or may not have a new sauce to introduce then…. it mayyyy or may not include v-bacon! www.vegfest.ca
April 9th 2015: We were interviewed at the Green Living Show! Check it out here:

March 17th 2015: We are super excited to be a part of the 2015 Green Living Show and we're busy making lots of sauce in anticipation! Check it out: March 27-29 at the Metro Toronto Convention Centre. We'll be at the Toronto Veg booth #125C. Free admission when you bring a piece of electronic waste for responsible recycling — see www.greenlivingshow.ca for details.

This lady was a very happy sampler at one of our recent demos. We are grateful that she allowed us to share this video!

February 16th 2015: This past weekend we launched into the Ontario Whole Foods Markets! See our store listings to find a retailer near you! We sold a ton of sauce at our demos and will be making much more this week to refill those shelves!
"I was very excited to be introduced to a great healthy option of Alfredo-type sauce that can appeal to a great many of my patients who are health conscious, vegan, vegetarian or gluten intolerant. I was thrilled furthermore that the taste and texture was phenomenal, dispelling the myth about healthy foods. This product can easily compete with any commercial Alfredo sauce on the market and from a health perspective is bar none the best option. I can't wait for it to be widely available for all my clients."
~ Dr. Thalia Charney, ND
What's the secret ingredient to our sauces? Why it is DANCE, of course!

November 12th 2014: Want to know a bit more about the sauce stirring muscles and brains behind this whole operation? Check out this interview with NONA Owner, Kailey Gilchrist – from Borden Communications!
"I was so happy to discover NONA as a delicious alternative to dairy and tomato sauces! The fresh ingredients like the cashews and olive oil make for a creamy and decadent sauce full of healthy fats and high protein content-great for energy and satisfaction. I enjoy this sauce over steamed kale or my favourite pasta."
~ Eleanor Healy, Writer & Registered Holistic Nutritionist www.trulyme.ca
October 29th 2014: Check out our indiegogo campaign to help us get through our rebranding and commercialization process! Buy yourself a fun perk or just share it with your networks! Thanks so much for all the support!
"This is without a doubt the best thing you can put on your food! It's absolutely amazing!"
~ Derrick Sweet, author of Get The Most Out Of Life
Read more of what people are saying about NONA Vegan Foods (formerly Soul to Bowl Sauces) in the links below!